References
(A selection of letters from our clients.)
October 2017
Sheriff of the City of London
Sheriff Neil Redclifee



Dear Mark,

What an absolute trumph! That has to be the best Breakfast ever! Thank you so much for all year extraordinary efforts in making our Shriffs' Breakfast such a success. It all paid off and will be remembered for a very long time. The Dragon in particular was inspirational inspite of our difficulty in choosing a name for the menu.

The Cornish Lobster Cocktail in the sea which was pure theatre and the Ballindlloch Beef was absolutely delicious. Washed down with such exceptional wine - sadly not much by me as I had to keep my wits about me in front of the Lord Chancellor.

Please send mine and Emna's warmest and heartfelt thanks to all at the Cook and the Butler and especially to Modesta and Jean. We did thank you at the end of the speeches but I couldn't see you, am not sure if you all heard.

Looking forward to seeing you often in the year ahead and thank you for making it such a perfect day for us all.

Warmest wishes.

Neil + Emna


September 2017
The Worshipful Company of Hackney Carriage Drivers



Dear Mark,

As my year as master is coming to an end I just wanted to say thank you to you and your company, The Cook and The Butler. Thank you for all the superb food and wine that we have enjoyed at our lunches and dinners in the City.

Our Company are very appreciative of the level of service we receive from your caterers at all of our functions. The Cook and The Butler are highly respected throughout the City, and rightly so.

I wish you all the best in your role as Master of The Worshipful Company of Cooks this year.

Thank you again.
Best wishes...

Master of The Worshipful Company of Hackney Carriage Drivers



June 2016
The Worshipful Company of Weavers





November 2015
AGINCOURT 600: COMMEMORATION BANQUET AT GUILDHALL - Sept 2015

The banquet that you provided for us and our 700 guests at the Guildhall on 22 September was absolutely stunning. The principal guests, including members of the Royal family, were utterly delighted with the evening that you and your staff had arranged for us. Many members of the Agincourt 600 Committee have had many years of experience of dining in the City of London. We were simply of one mind: you gave us the most sumptuous and beautiful dinner any of us had ever received.

The inspired choice of the menu and its ingredients that reflected that part of North France where the battle of Agincourt was fought added an almost emotional relationship between the food and the event we were commemorating. The care and the amount of thought you put in to designing the menu was legendary: the sauce "Nicholas Wootton" accompanying the meat course, named after the Lord Mayor in 1415; the selection of fruits and the mini toffee crab apple from Picardy; the goats' cheese from goats who grazed on the battlefield at Azincourt. These superb touches added to what was a wonderful array of food.

The reception for all of us was marvelous and our guests were highly delighted to have such lovely canapés. The champagne and the wines were a perfect accompaniment.

Thank you for all that you provided for us. It was a tour de force.



The Worshipful Company of Poulters


"...I want to express our appreciation of the wonderful spread you set out for the company and our guests at Trinity House; it was excellent. Our thanks to you and all at The Cook and The butler together with your staff that night.

"I especially want to thank you for your choice of wines, the Gewurtz was superb and the Tannat a lovely surprise; very well done."



October 2015

The Worshipful Company of Makers of Playing Cards



Dear Mark,

I missed you at the end of the WCMPC Livery Dinner at Trinity House on 5 Oct to thank you personally for the Superb Trafalgar night dinner you laid on for us that night, although you did get a 'chuck up' in the poem I wrote as part of my speech. So this is to reiterate that and also thank you for a whole year of dinners (+ 1 lunch), all of which have been superb, but crowned, I think, by the 'Ships of the Line' pudding that evening. You must be very proud of your head chef and chefs, together with your front of house team, all of whom are a credit to The Cook and The Butler.

As I approach the end of my year and hand over to a new Master, I am really pleased that we undertook a strategy of visiting halls and venues catered by you. It has worked very well and I have been happy to recommend the arrangements to other Livery companies I have met.

So thank you, Mark, and your excellent team, for a whole year's worth of catering. Anyone who came to the Oct Traf night dinner is in no doubt of the heights your team can scale and a number have mooted that it was the "best Livery Dinner ever"! I know people say nice things but that is heady praise indeed.

We shall, of course, cross paths often after I have stood down,not least at Anchorites and my own company's (Ethos) annual bash, which next year is likely to be in May onboard Wellington.

Once again, thank you and please pass on my thanks to your team.




The Worshipful Company of Weavers






May 2015
The Worshipful Company of Arts Scholars






April 2015
The Worshipful Company of Makers of Playing Cards






The Worshipful Company of Carmen


"Dear Mark,

"I wanted to write following the Joint Services Dinner Night on Wednesday 22" April 2015. I was really delighted with how the evening went, and how everyone worked together to make the event the success it turned out to be. I am thrilled that immediately after, and since, I have received numerous messages of approval and thanks. The overwhelming consensus is that the evening was the best Military Awards Night in memory, and one that will be hard to beat in the future.

"Thank you so much for the key part you played in the preparations, and the evening itself. The Great Hall looked impressive and perfectly set out. The food was outstanding, well presented, and delicious to eat - and most definitely relished by all. Sourcing beef from Gloucestershire was inspired, and marvellous. The wines were just as I remembered them from the tasting, and very well received. The visual was simply awesome, and a spectacle that everyone loved and appreciated. It was clear that a great deal of time had been put in to deliver what you did. Can you please pass on my thanks to Jean and the team, and give them my best wishes.

"Once again, thank you so much, for all that you did, to make the event the success it was. Your support really was, and is, much appreciated."



The Meyrick Society





"Once again may I thank you and your most professional staff for yet another memorable Meyrick Dinner. I said before the event that the menu (particularly after substituting lamb for pork) looked pretty good and we were not disappointed – in fact many thought it one of the best meals to date.

"Personally, it is the perfect evening; a very good meal, plenty of wine, surrounded by chums and in magnificent surroundings but as you will have seen from the number attending, not everyone shares my enthusiasm. In order to encourage members to attend this evening, the Society now contributes a major part of the cost of hiring the hall and thanks to your kind gesture in keeping your price (relatively) low, we can moderate the cost of the ticket. I am very much aware of what you do and much appreciate it.

"Assuming that my fellow members want another Dinner, I will be in touch but in the meantime, thank you for a very competent service."


March 2015
King Edward's School, Witley




"Dear Mark

"Another Bridewell Day has been and gone and yet again this has been catered for admirably by The Cook and Butler. Thank you for your part in ensuring the day was successful. The food was superb, and again many favourable comments have been received. All the children seemed happy too with the contents of their lunchbags.

"Please pass on my thanks to your staff who, as always, were very pleasant and courteous.

"I hope we will be allowed to use The Cook and Butler in March 2016, when Bridewell Day falls on Tuesday 8th March.

"With best wishes..."


February 2015
The Worshipful Company of Poulters




"Dear Mark,

"Just a line to say thank you again for the superb meals you and your team have provided during my year as Master.
Each event was I believe perfect and from the comments I have received that is the view of all those attending.
Please convey my sincere thanks and congratulations to the Chef and all his team at The Cook and The Butler for an excellent job, in every respect.
My warmest regards to you all."


November 2014
The Rifles Regiment



"Dear Mark,

"I am sorry it has taken me so long to write to you and thank you for making our reception and Regimental Dinner at the Guildhall in September such a perfect and memorable event.

"You and your team could not have been more helpful in the planning, preparation and execution of both events especially as the Guildhall was an entirely new venue for us.

"Your menu and wine proposals were well thought out and complemented each other and were presented in an easily understandable manner I personally was extremely relieved that I did not have to wade through endless reviews, brochures, testimonials and pictures of puddings till I got to the actual menu proposal! Your cost estimates were clear, detailed and reasonable and spot on.

"As to the final menu — it was universally applauded. The Fillet of Sandringham Estate Beef was quite excellent. How you managed to produce some 150 fillets in mouth-watering unison especially as the General held his speech, unexpectedly, at the start of the dinner and went on a bit longer than planned and I was worried that the 'moment de critique' for the beef could have been past. It was not — it was delicious.

"Thank you for incorporation our regimental colour scheme not only into the table decorations but also somehow into the desert!

"Thank you also for being so flexible on the final numbers so close to the event, in so doing we were able to accommodate a number of officers who only that morning had returned from operations in Afghanistan. I know they appreciated that they could be included in the last moment — which was entirely due to you all being so accommodating and flexible.

"All in all a very good show which was appreciated by all who came but especially by me who had to organise it.

"I have booked the Guildhall for the 23 of June next year so 'Stand Ready'.

"Yours with thanks and appreciation for a job very well done."



Golden Wedding Anniversary Lunch





October 2014
The Worshipful Company of Tylers and Bricklayers






The Worshipful Company of Fuellers






July 2014
Lime Street Ward Club




"Dear Mark,

"A short note to say a very large thank you to you and your Cook & Butler team for providing us with a really excellent lunch in the Old Library last week. We have received nothing but praise for the menu, the quality of the food and 2 excellent wines. The Viognier white surprised a few people.

"We know that events like this do not just happen, they require a lot of effort and attention to detail. C & B certainly did their bit to make the day a great event.
Special thanks to Jean, Modesta and Martha."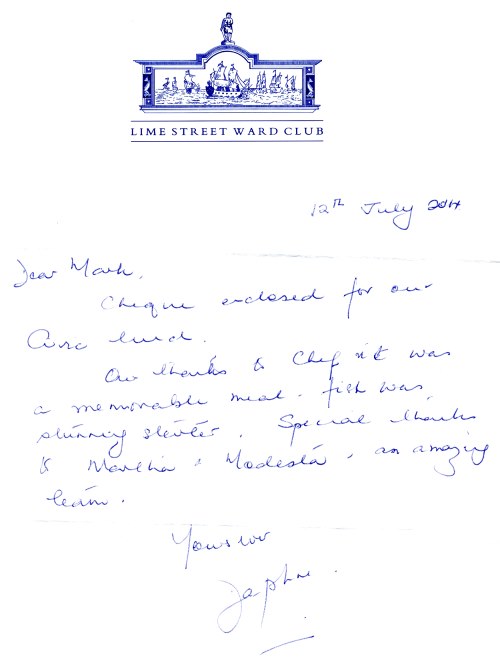 June 2014
The Worshipful Company of Gardeners





ay 2014May 2014
Received via email. Subject: FINA/NVC Diving World Series
"Hi, I just wanted to say a huge thank you to you and all your staff members for the time and effort that everyone put in to making the FINA/NVC Diving World Series a huge success."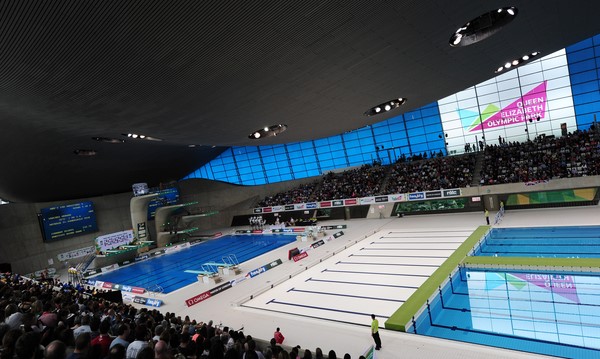 "We appreciate the challenges working in a new venue gave but I am very grateful to all the new companies & organisations we had the pleasure to work with. Look forward to working with you all in the future."

Kind regards
Events Officer




April 2014
The Meyrick Society





March 2014
The Society of the Livery of the Coopers' Company




December 2013
Sons and Friends of the Clergy





October 2013
The Worshipful Company of Builders' Merchants






June 2013
Lime Street Ward Club


Lime Street Ward Club Civic Luncheon

"On behalf of the Master, Wardens and members of the Lime Street Ward Club, thank you and your team for playing such an important role in the success of our Civic Lunch. The food and service were exceptional. Well done and many thanks."

April 2013
The Worshipful Company of Builders' Merchants






March 2013
The Worshipful Company of International Bankers



"I would like to mention that food on our Banquet was extremely delicious and we have received many compliments for nice goose and lavish dessert of course. Your management was extremely good and l was very amazed to see kitchen discipline [in action] for the first time on that day."



Lime Street Ward Club




Lime Street Ward Club AGM Dinner

"It is with great pleasure that I write on behalf of The Master, Mr Vernon Ashford, Wardens and Members of Lime Street Ward Club to thank you and your staff for a wonderful evening. The service was prompt and efficient and the food delicious. We really do appreciate your efforts on our behalf. Martha certainly runs a good team."

February 2013
Bishopsgate Ward Club


"My very warm thanks to you and your team for catering our Civic Lunch in Guildhall Crypt on Thursday.

"I know that, with the Lord Mayor's subsequent commitment, everyone had to keep to a very tight timetable and - I am pleased and grateful to acknowledge - all did, such that the Lord Mayor had even a minute or two to spare!

"The food was excellent - many commented especially on the grouper - and all were well pleased with the wines. I thought the Shiraz worked particularly well."

December 2012
71st (City of London) Yeomanry Signal Regiment




"Dear Mark,

"Now that the dust has settled after our absolutely fantastic Charity Boxing Dinner in support of Hounds For Heroes, I would like to take this opportunity to thank you for your immense generosity in helping us to raise our whopping £45,000 for the Charity. In actual fact, between us we raised circa £67,000, leaving a clear profit of £45K once all the costs to run the event had been met. A very respectable total, I trust you will agree.

"In reality, we could not have done so outstandingly well without your support. We are very proud of the fact that we have now raised enough money to provide the through-life costs for two assistance dogs. The training of these dogs will commence in the New Year and I would like to remind you that we have officially named one of the dogs 'Yeoman' to reflect our Regimental Yeomanry heritage and aspects of the communications provided by our Corps, the Royal Corps of Signals.

"The Cook and The Butler's support to the event was critical to the success of the evening; quite simply we couldn't have done it without you. Your table presentation was outstanding, and the food was absolutely delicious. We have received so many compliments based on the standard of the catering. In addition, your incredibly generous donation of one of our key auction prizes went such a long way to helping us reach our total for the evening. Thank you so much.

"Team Dogfight wish you and yours a peaceful and Merry Christmas and look forward to a future association.2


November 2012
The Guild of Freemen of the City of London




October 2012
The Worshipful Company of Chartered Secretaries and Administrators






The Worshipful Company of Tylers and Bricklayers


"Dear Mark,

"Very many thanks for the excellent food at the Installation Lunch on Thursday - you and your staff did us proud. From the tea and coffee for both members of the Court and their ladies upstairs to the food and wine service I don't think things could have gone much better.

"It all contributed to making the day that bit extra special…"


August 2012
Sacred Military Constantinian Order of St George




May 2012
City of London Solicitors' Company





April 2012
The Worshipful Company of Lightmongers






The Meyrick Society





November 2011
City of London Solicitors' Company





October 2011
British Red Cross






Sacred Military Constantinian Order of St George




July 2011
The Worshipful Company of Makers of Playing Cards




May 2011
Lime Street Ward Club


"Dear Mark,

Thank you for making the luncheon such a huge success. Over the past few days we have opened letter after letter thanking us for the quality of the food and the service.

Our concern is that as a result The Cook & The Butler will become so much in demand that we'll struggle to make bookings in the future.

Thank you once again…"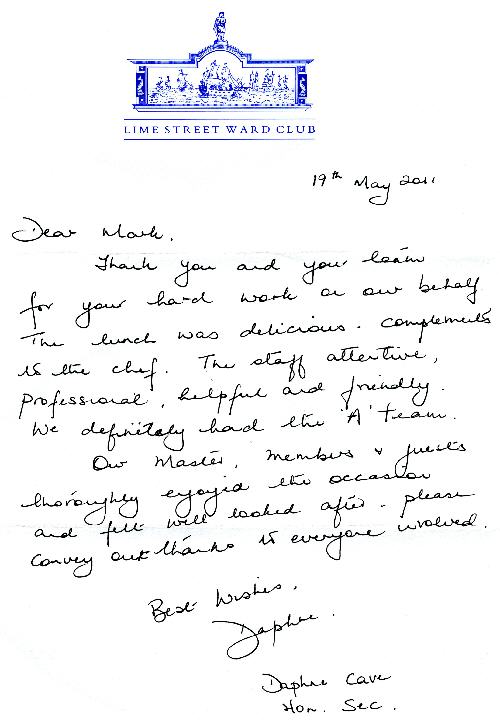 Golden Wedding Anniversary







The Worshipful Company of Paviours






March 2011
Cripplegate Ward Club





December 2010
The Worshipful Company of Cutlers





The Guild of Freemen of the City of London





Broad Street Ward Club




November 2010
Royal Tank Regiment





Share Plan Lawyers





Reunion de Gastronomes




September 2010
The Worshipful Company of Information Technologists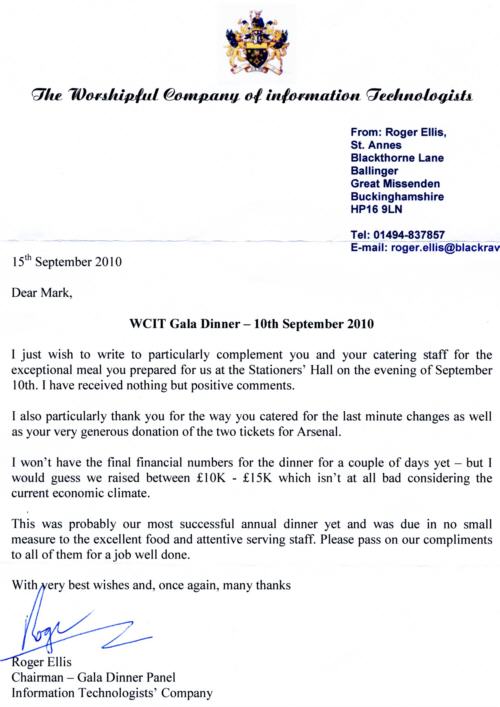 August 2010




The Worshipful Company of Wheelwrights




Bread Street Ward Club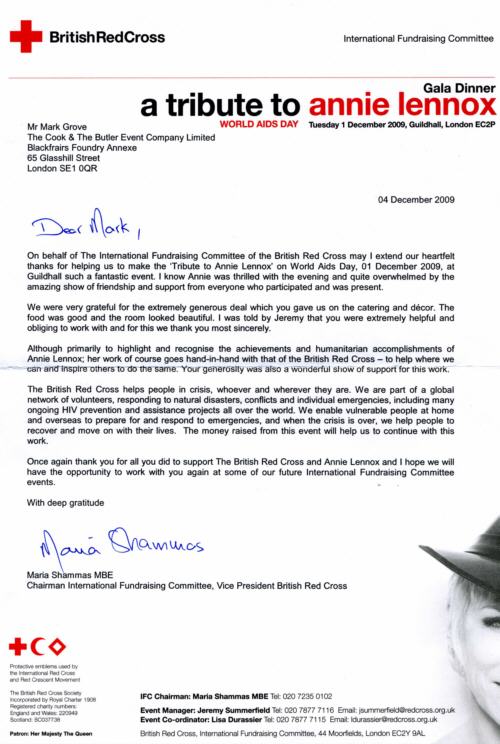 On behalf of The International Fundraising Committee of the British Red Cross may I extend our heartfelt thanks for helping us to make the 'Tribute to Annie Lennox' on World Aids Day, 01 December 2009, at Guildhall such a fantastic event. I know Annie was thrilled with the evening and quite overwhelmed by the amazing show of friendship and support from everyone who participated and was present.
We were very grateful for the extremely generous deal which you gave us on the catering and decor. The food was good and the room looked beautiful. I was told by Jeremy that you were extremely helpful and obliging to work with and for this we thank you most sincerely.
Although primarily to highlight and recognise the achievements and humanitarian accomplishments of Annie Lennox; her work of course goes hand-in-hand with that of the British Red Cross — to help where we can and inspire others to do the same. Your generosity was also a wonderful show of support for this work.
The British Red Cross helps people in crisis, whoever and wherever they are. We are part of a global network of volunteers, responding to natural disasters, conflicts and individual emergencies, including many ongoing HIV prevention and assistance projects all over the world. We enable vulnerable people at home and overseas to prepare for and respond to emergencies, and when the crisis is over, we help people to recover and move on with their lives. The money raised from this event will help us to continue with this work.
Once again thank you for all you did to support The British Red Cross and Annie Lennox and I hope we will have the opportunity to work with you again at some of our future International Fundraising Committee events.
With deep gratitude

Maria Shammas MBE
Chairman International Fundraising Committee, Vice President British Red Cross






May 2009
The Movers and Shakers Charity Dinner

The Wandsmen of St Paul's Cathedral

The Worshipful Company of Hackney Carriage Drivers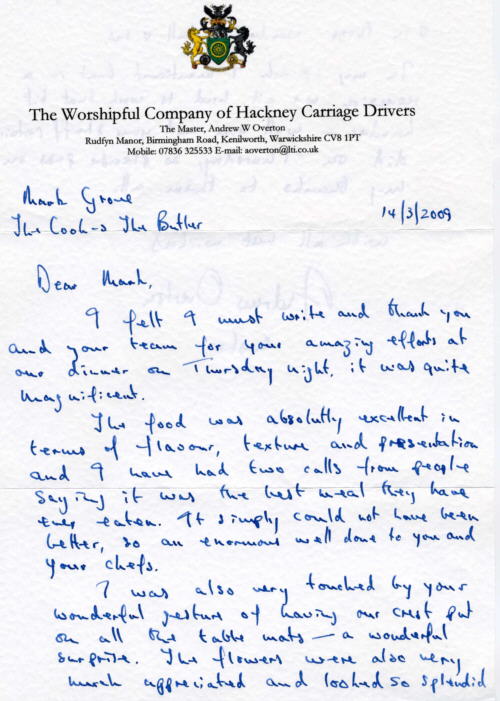 The City of London's Court Leet of the Guildable Manor
of the Town and Borough of Southwark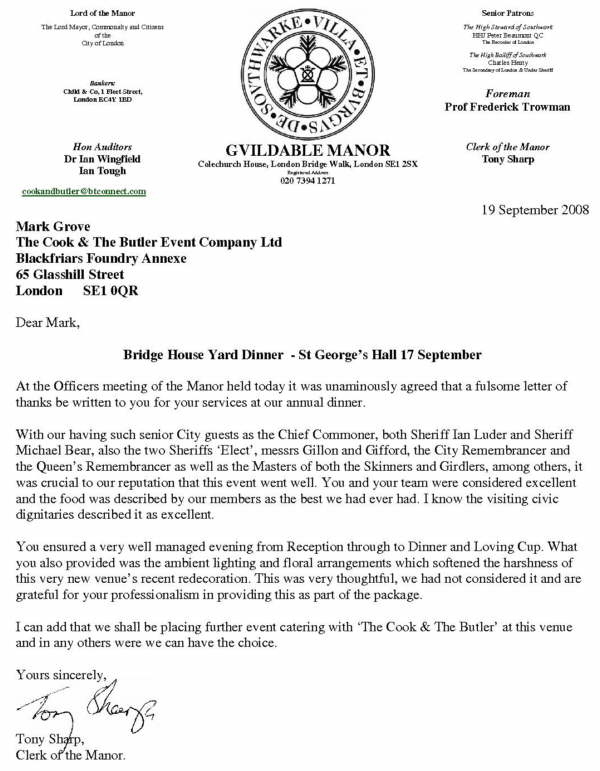 July 2008
Langbourn Ward Club
Dear Mark
Once again, on behalf of Pauline and myself, and the Langbourn Ward Club, thank you very much indeed for all your efforts and endeavours on our behalf. Personally I thought the food was fantastic, and the lamb cutlets were cooked to perfection. We thoroughly enjoyed the Welsh Salmon, and it was a pity the Lord Mayor missed out, although Sheriff Luder certainly enjoyed it.

The whole meal was beautifully prepared and superbly balanced. All the comments that I, the President, the Secretary and Pauline received about the meal were highly complimentary – and referred to in terms such as the 'best ever meal that they had had at a Civic function'. Please convey our sincere thanks to the Chef, kitchen staff and to Paulina and her team of waiters/waitresses. They did a magnificent job.

Thank you also, for the table numbering provision. Just the job. As for the flower arrangements, they were fantastic, and all the ladies who took them away were very fulsome in their praise as to how nice they were. Very many thanks indeed. Thank you for being there, and supervising the process personally. Very many thanks. It was a wonderful occasion not least because of the cuisine, the time you took in planning it, the modifications you made after our tasting, and the way it was cooked, presented and served. A first class outcome.

Regards Pauline



June 2008
Birthday Dinner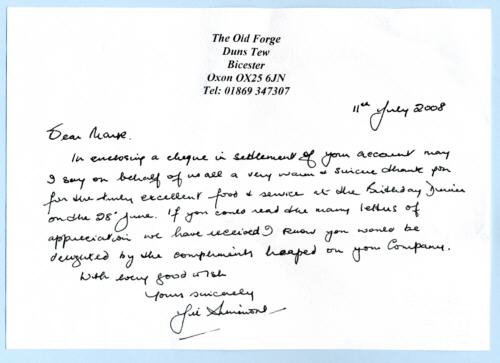 "May I say on behalf of us all a very warm and sincere thank you for the excellent food and service at the Birthday Dinner on the 26th June. If you could read the many letters of appreciation we have received I know you would be delighted by the compliments heaped on your company."



April 2008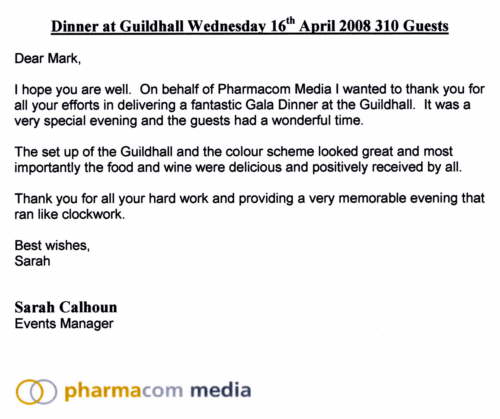 September 2007
The Worshipful Company of Loriners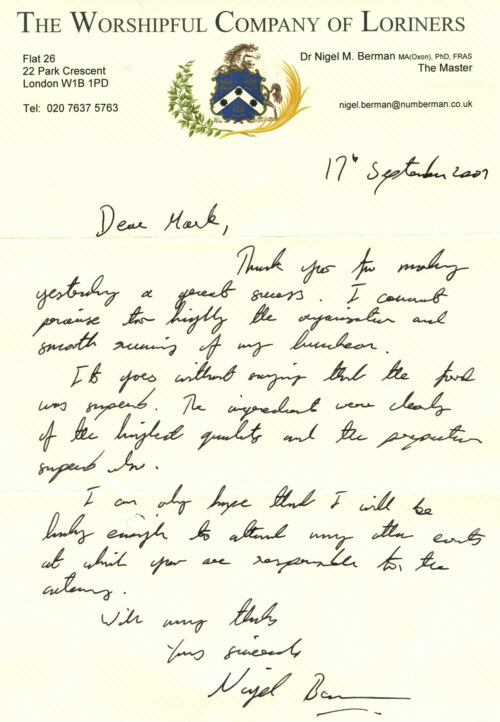 April 2007
The Worshipful Company of Upholders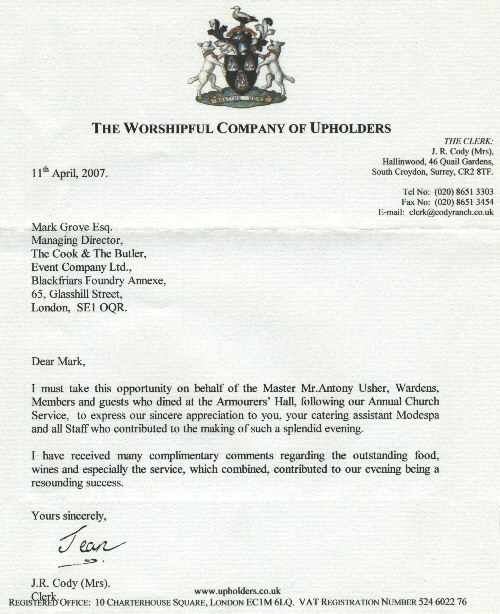 March 2007
Dinner at Temple Bar St. Paul's Cathedral
Dear Mark,

I'm just writing to thank you so very much for arranging such a superb Menu for the Celebration Dinner Party for Eric and our friends on Tuesday 6th March. Without exception, everyone said what an honour it was to wine and dine in such unique style in the most wonderful setting of Sir Christopher Wren's little gem - Temple Bar, Paternoster Square.

The food, wine and service was first class and for all it will remain a remarkable and most memorable evening, especially for the Birthday Boy! Of particular interest was the delightfully pretty Flower of Courgette stuffed with Lobster Mousse and the Saffron Sauce. The Rack of Lamb was greatly appreciated; the colourful Trio of Summer Dessert produced some ooh's and mmm's and by the time the Plate of Cheese arrived, the belts were beginning to loosen!! The choice of wines was excellent and the Birthday Cake was said to be a perfect and fitting conclusion to the Celebration Dinner.

To have the evening so successfully organised within the space of less than a week was remarkable. All credit is due to the professionalism of you Mark and your company. As mentioned when I first introduced myself, you came so highly recommended that the outcome was never in doubt.

With all good wishes.
Maureen Bonanno-Smith


January 2007
The Worshipful Company of Loriners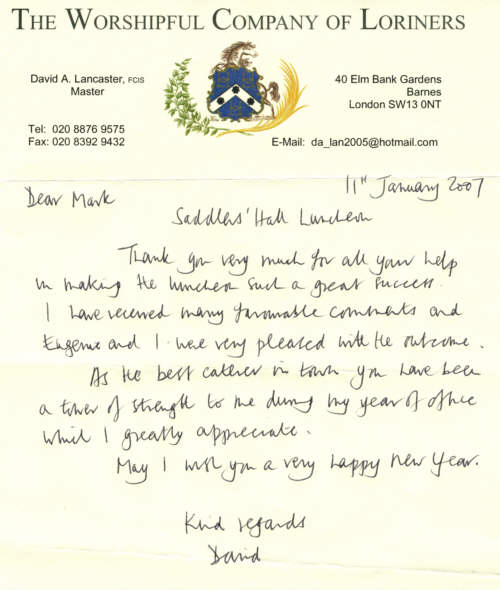 October 2006

The Worshipful Company of Gunmakers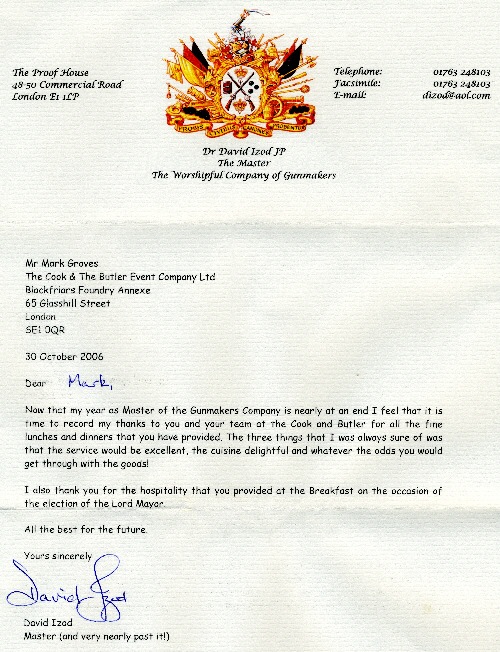 June 2006
Considerate Constructors
Monitors' Annual Conference
www.ccscheme.org.uk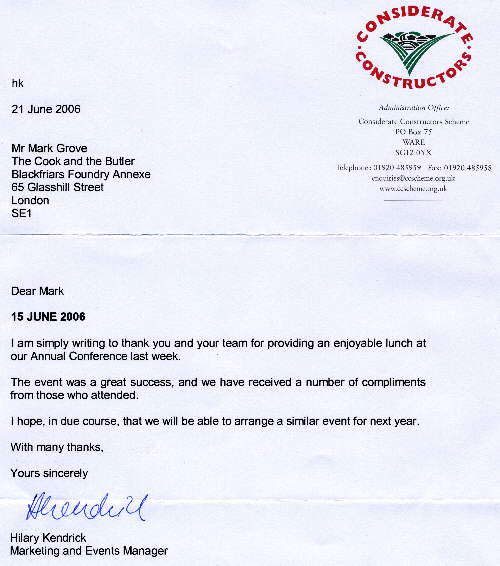 May 2006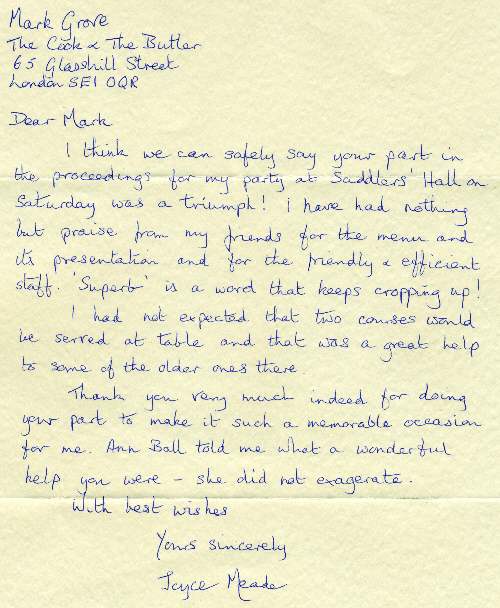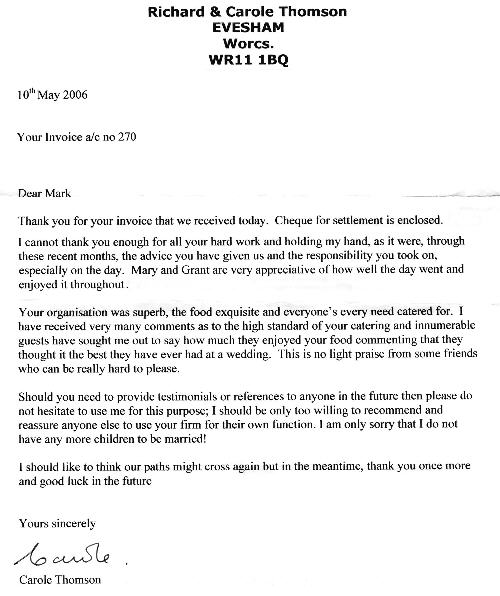 April 2006
The Worshipful Company of Gunmakers