References 2011 - 2014


November 2014
The Rifles Regiment



"Dear Mark,

"I am sorry it has taken me so long to write to you and thank you for making our reception and Regimental Dinner at the Guildhall in September such a perfect and memorable event.

"You and your team could not have been more helpful in the planning, preparation and execution of both events especially as the Guildhall was an entirely new venue for us.

"Your menu and wine proposals were well thought out and complemented each other and were presented in an easily understandable manner I personally was extremely relieved that I did not have to wade through endless reviews, brochures, testimonials and pictures of puddings till I got to the actual menu proposal! Your cost estimates were clear, detailed and reasonable and spot on.

"As to the final menu — it was universally applauded. The Fillet of Sandringham Estate Beef was quite excellent. How you managed to produce some 150 fillets in mouth-watering unison especially as the General held his speech, unexpectedly, at the start of the dinner and went on a bit longer than planned and I was worried that the 'moment de critique' for the beef could have been past. It was not — it was delicious.

"Thank you for incorporation our regimental colour scheme not only into the table decorations but also somehow into the desert!

"Thank you also for being so flexible on the final numbers so close to the event, in so doing we were able to accommodate a number of officers who only that morning had returned from operations in Afghanistan. I know they appreciated that they could be included in the last moment — which was entirely due to you all being so accommodating and flexible.

"All in all a very good show which was appreciated by all who came but especially by me who had to organise it.

"I have booked the Guildhall for the 23 of June next year so 'Stand Ready'.

"Yours with thanks and appreciation for a job very well done."



Golden Wedding Anniversary Lunch





October 2014
The Worshipful Company of Tylers and Bricklayers






The Worshipful Company of Fuellers






July 2014
Lime Street Ward Club




"Dear Mark,

"A short note to say a very large thank you to you and your Cook & Butler team for providing us with a really excellent lunch in the Old Library last week. We have received nothing but praise for the menu, the quality of the food and 2 excellent wines. The Viognier white surprised a few people.

"We know that events like this do not just happen, they require a lot of effort and attention to detail. C & B certainly did their bit to make the day a great event.
Special thanks to Jean, Modesta and Martha."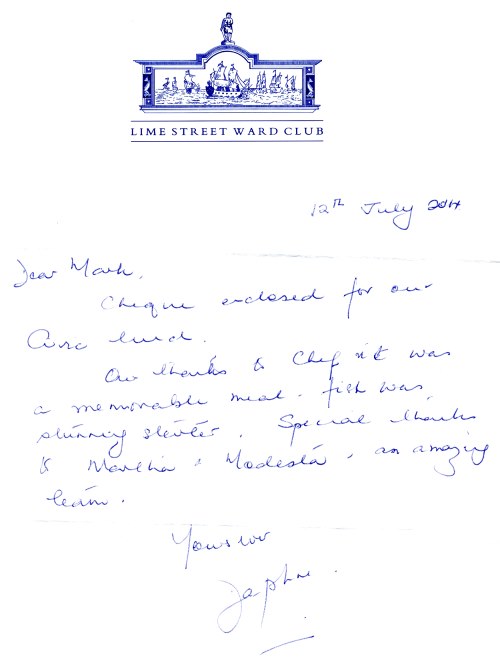 June 2014
The Worshipful Company of Gardeners





May 2014
Received via email. Subject: FINA/NVC Diving World Series
"Hi, I just wanted to say a huge thank you to you and all your staff members for the time and effort that everyone put in to making the FINA/NVC Diving World Series a huge success."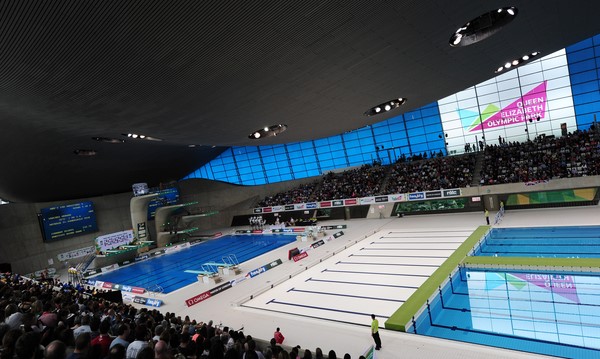 "We appreciate the challenges working in a new venue gave but I am very grateful to all the new companies & organisations we had the pleasure to work with. Look forward to working with you all in the future."

Kind regards
Events Officer




April 2014
The Meyrick Society





March 2014
The Society of the Livery of the Coopers' Company




December 2013
Sons and Friends of the Clergy





October 2013
The Worshipful Company of Builders' Merchants






June 2013
Lime Street Ward Club


Lime Street Ward Club Civic Luncheon

"On behalf of the Master, Wardens and members of the Lime Street Ward Club, thank you and your team for playing such an important role in the success of our Civic Lunch. The food and service were exceptional. Well done and many thanks."

April 2013
The Worshipful Company of Builders' Merchants






March 2013
The Worshipful Company of International Bankers



"I would like to mention that food on our Banquet was extremely delicious and we have received many compliments for nice goose and lavish dessert of course. Your management was extremely good and l was very amazed to see kitchen discipline [in action] for the first time on that day."



Lime Street Ward Club




Lime Street Ward Club AGM Dinner

"It is with great pleasure that I write on behalf of The Master, Mr Vernon Ashford, Wardens and Members of Lime Street Ward Club to thank you and your staff for a wonderful evening. The service was prompt and efficient and the food delicious. We really do appreciate your efforts on our behalf. Martha certainly runs a good team."

February 2013
Bishopsgate Ward Club


"My very warm thanks to you and your team for catering our Civic Lunch in Guildhall Crypt on Thursday.

"I know that, with the Lord Mayor's subsequent commitment, everyone had to keep to a very tight timetable and - I am pleased and grateful to acknowledge - all did, such that the Lord Mayor had even a minute or two to spare!

"The food was excellent - many commented especially on the grouper - and all were well pleased with the wines. I thought the Shiraz worked particularly well."

December 2012
71st (City of London) Yeomanry Signal Regiment




"Dear Mark,

"Now that the dust has settled after our absolutely fantastic Charity Boxing Dinner in support of Hounds For Heroes, I would like to take this opportunity to thank you for your immense generosity in helping us to raise our whopping £45,000 for the Charity. In actual fact, between us we raised circa £67,000, leaving a clear profit of £45K once all the costs to run the event had been met. A very respectable total, I trust you will agree.

"In reality, we could not have done so outstandingly well without your support. We are very proud of the fact that we have now raised enough money to provide the through-life costs for two assistance dogs. The training of these dogs will commence in the New Year and I would like to remind you that we have officially named one of the dogs 'Yeoman' to reflect our Regimental Yeomanry heritage and aspects of the communications provided by our Corps, the Royal Corps of Signals.

"The Cook and The Butler's support to the event was critical to the success of the evening; quite simply we couldn't have done it without you. Your table presentation was outstanding, and the food was absolutely delicious. We have received so many compliments based on the standard of the catering. In addition, your incredibly generous donation of one of our key auction prizes went such a long way to helping us reach our total for the evening. Thank you so much.

"Team Dogfight wish you and yours a peaceful and Merry Christmas and look forward to a future association.2


November 2012
The Guild of Freemen of the City of London




October 2012
The Worshipful Company of Chartered Secretaries and Administrators






The Worshipful Company of Tylers and Bricklayers


"Dear Mark,

"Very many thanks for the excellent food at the Installation Lunch on Thursday - you and your staff did us proud. From the tea and coffee for both members of the Court and their ladies upstairs to the food and wine service I don't think things could have gone much better.

"It all contributed to making the day that bit extra special…"


August 2012
Sacred Military Constantinian Order of St George




May 2012
City of London Solicitors' Company





April 2012
The Worshipful Company of Lightmongers






The Meyrick Society





November 2011
City of London Solicitors' Company





October 2011
British Red Cross






Sacred Military Constantinian Order of St George




July 2011
The Worshipful Company of Makers of Playing Cards




May 2011
Lime Street Ward Club


"Dear Mark,

Thank you for making the luncheon such a huge success. Over the past few days we have opened letter after letter thanking us for the quality of the food and the service.

Our concern is that as a result The Cook & The Butler will become so much in demand that we'll struggle to make bookings in the future.

Thank you once again…"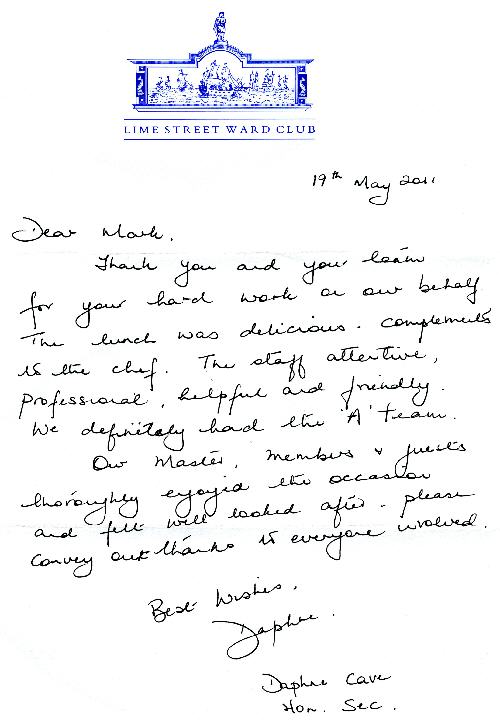 Golden Wedding Anniversary







The Worshipful Company of Paviours






March 2011
Cripplegate Ward Club