The Wet 10 Group of City of London Livery Companies
Discussion Dinner
Water - The Big Issues
March 2011, Glaziers' Hall, London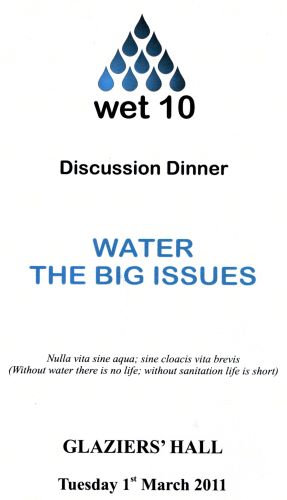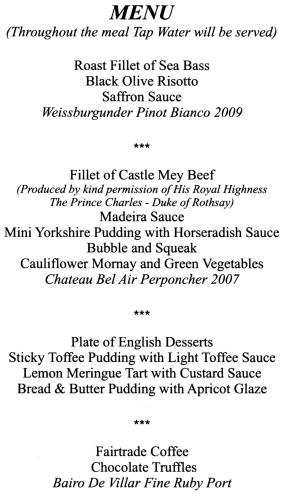 The Water Related Livery Companies
The Wet 10 are an informal group of both users and suppliers of water. We all depend on water in one way or another and all share a common concern for the long term health of the water environment. Our aim is to promote awareness, to contribute to debate and to be an influence for the good in this key area. The current event is being supported by the following companies: Plumbers, Basketmakers, Gardeners, Farmers, the Guild of Air Pilots and Air Navigators, Scientific Instrument Makers, Launderers, Environmental Cleaners, Constructors, Water Conservators, Firefighters and Watermen & Lightermen.
The Speakers
The Earl of Selborne GBE FRS
Lord Selborne chairs the Partners Board of The Living with Environmental Change Partnership. He is a hereditary (elected) Conservative member of The House of Lords. He currently serves on the Select Committee for Science and Technology, of which he is a previous chairman. He has also chaired Sub-Committee D (Agricultural and Environment) of The European Union Select Committee. He is Chairman of The Foundation for Science and Technology. He has previously served as Chairman of the Trustees of Royal Botanic Gardens Kew, Chancellor of the University of Southampton, President of the Royal Geographical Society and Chairman of the Agricultural and Food Research Council.
Sir Peter Mason KBE FREng
Sir Peter became Chairman of Thames Water in December 2006. He brings extensive experience in engineering, construction and complex capital investment business. He retired as CEO of AMEC plc in September2006 and previously was Chairman and CEO of Balfour Beatty Limited. Sir Peter is currently the senior non-executive director of BAE Systems plc and Subsea 7 S.A. and until October 2008 was a board member of The 2012 Olympic Delivery Authority. He was made a Knight Commander of the British Empire (KBE) for services to international trade in 2002.