Trinity House
President's Fifth Anniversary Banquet

9th Novemeber 2023,Trinity House, London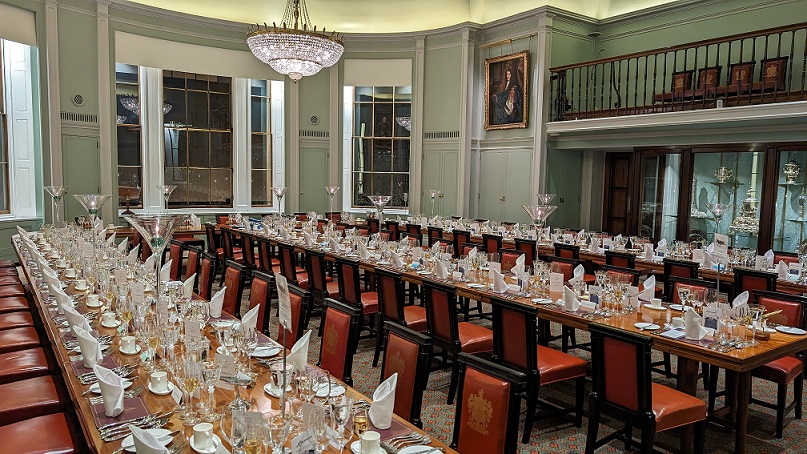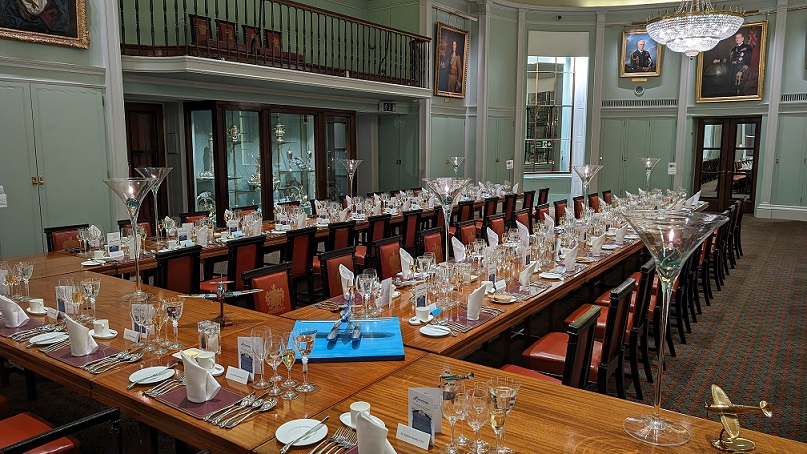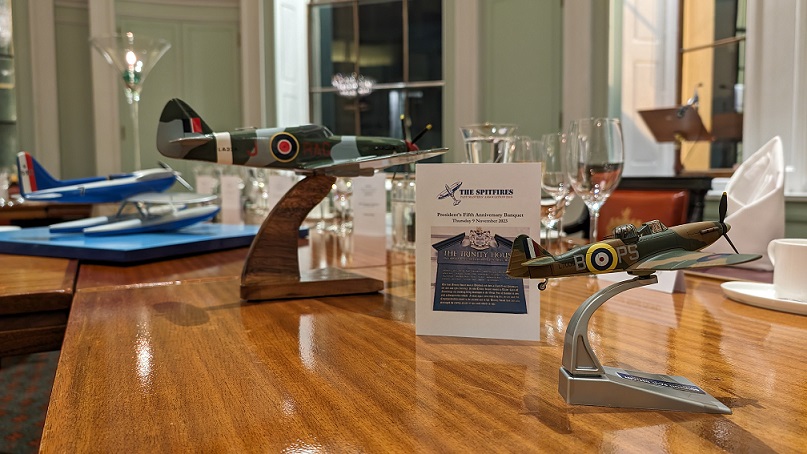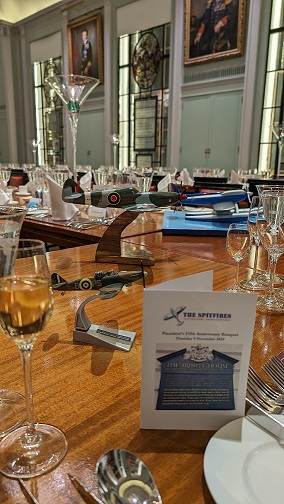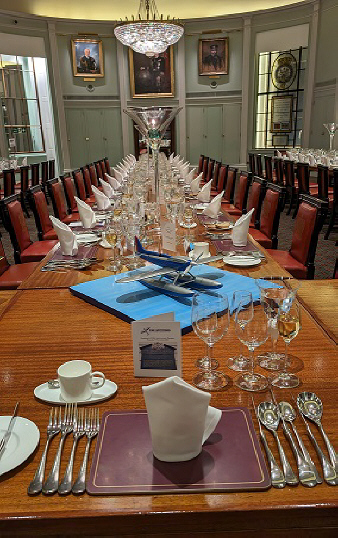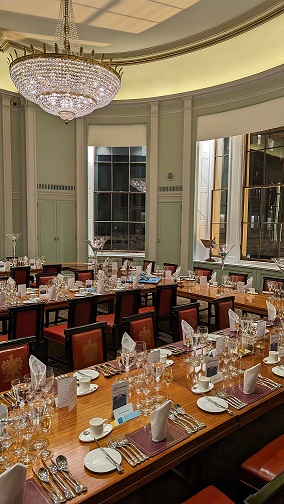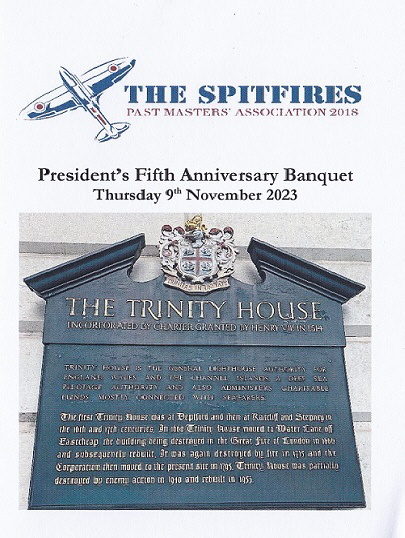 Court & Livery Dinner
20th October 2023,Trinity House, London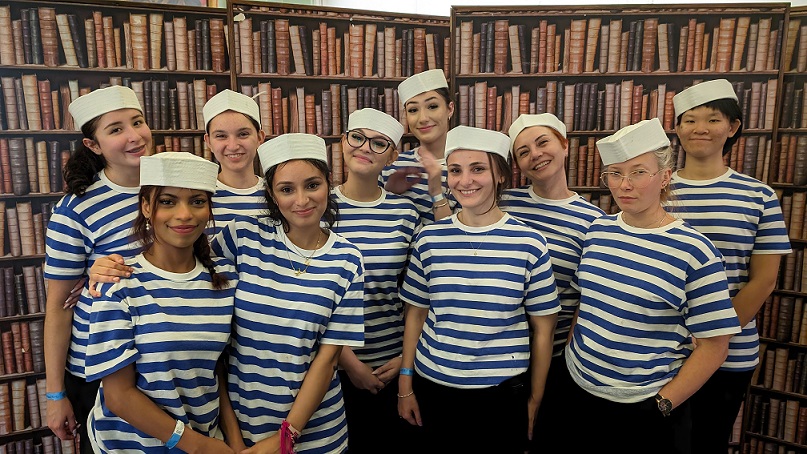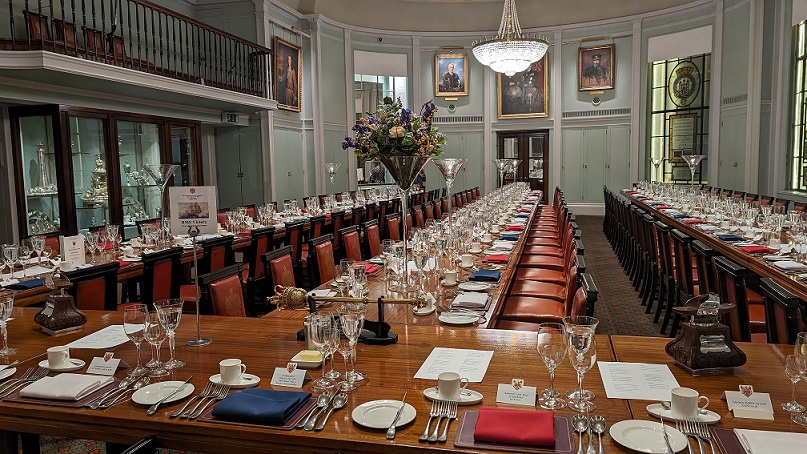 Menu

Grace by the Beadle Mr Christopher Moore

Sauvignon Blanc Reserva, Bio-Bio 2022 Gracia de Chile



Leviathan's Prize from the Deep
Symphonie of Seafood
Monkish Cod Salmon, Halibut King Prawns
Saffron Sauce, Oatmeal Bread

Cabernet Sauvignon 2019/20, Castelli Estate Western Australia



Fighting Temeraire
Barron of Prime Norfolk Beef
Nelson Gravy
Yorkshire Pudding Horseradish Relish
Dauphinoise Potatoes, Savoy Cabbage
Roasted Shallots and Donkey Baby Carrots

Lady Hamilton's Delight
Rich Caribbean Chocolate Mousse
Port Baroa de Vilar
Pussers Rum Blue Label "The Admiralty"

Rich Roast Coffee
Toasts

THE KING
Proposed by the Master
Commodore Patrick Tyrrell OBE Royal Navy

THE QUEEN,
THE PRINCE AND PRINCESS OF WALES,
OUR PATRON THE DUKE OF GLOUCESTER
and other Members of the Royal Family
Proposed by the Master

THE LORD MAYOR
AND THE CORPORATION OF THE CITY OF LONDON
Proposed by the Master
Liveryman Ian Balcombe
will propose the toast to

THE GUESTS
Admiral The Lord West of Spithead GCB DSO
will propose the toast to
THE IMMORTAL MEMORY OF ADMIRAL LORD NELSON



Reply from
The Master Pattenmaker
Commodore Patrick Tyrrell OBE Royal Navy
Lieutenant General Sir Robert Fulton KBE
will propose the toast to

THE PATTENMAKERS' COMPANY
The Battle of Trafalgar



The Battle of Trafalgar took place on 21 October 1805 between the Royal Navy and the combined fleets of the French and Spanish Navies.

Nelson was outnumbered, with 27 British ships of the line against 33 enemy ships. To address this imbalance, Nelson sailed his fleet directly at the enemy's battle line's flank, hoping to break the line into pieces.
The plan worked almost perfectly; Nelson's columns split the Franco-Spanish fleet in three. In the ensuing fierce battle 22 allied ships were lost, while the British lost none.



Nelson was shot by a French musketeer during the battle, and died shortly before it ended.
The victory confirmed the naval supremacy Britain had established during the course of the eighteenth century.


Patron

HRH THE DUKE OF GLOUCESTER KG GCVO



THE WORSHIPFUL COMPANY OF
PATTENMAKERS

TRAFALGAR & LIVERY DINNER

Trinity House
Tower Hill
London
EC3N 4DH

Friday, 20th October 2023


Master
Commodore Patrick Tyrrell OBE Royal Navy

Upper Warden
Deputy Keith Bottomley

Warden to the Trade
Dr Christopher Stears



Clerk to the Company
Colonel Robert Murfin TD DL

Millennium Masters' Twenty-first Anniversary Luncheon
November 19th 2021, Trinity House, London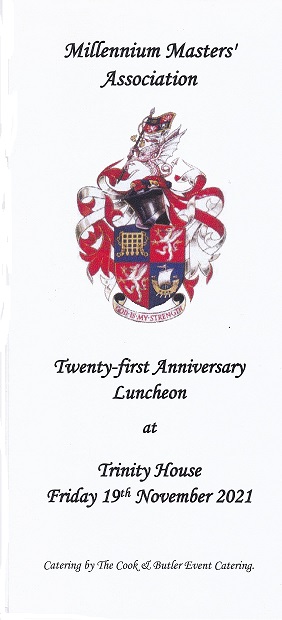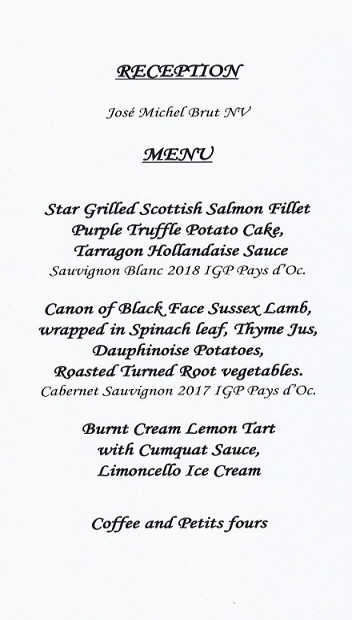 Australian Spring Dinner
September 6th, Trinity House, London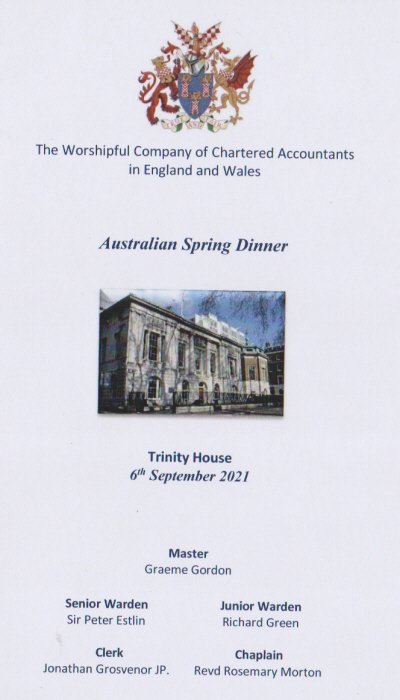 Elder Brethrens' Guest Night
July 2013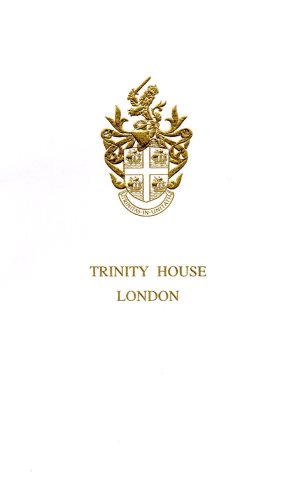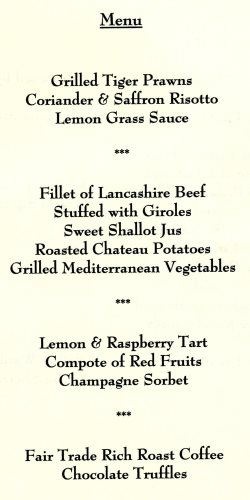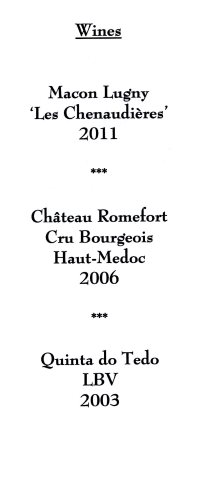 The Corporation of Trinity House
The Corporation of Trinity House has three main functions: -
1. The General Lighthouse Authority for England, Wales, The Channel Islands and Gibraltar.
2. A Deep Sea Pilotage Authority,
3. A Maritime Charity for the safety, welfare and education of mariners.
Trinity House was constituted under a Royal Charter granted by King Hemy VIII in 1514. The Corporation is managed by a Court of Elder Brethren drawn from senior ranks in the Merchant and Royal Navies and the maritime industry.
Lighthouse Authority
It is responsible for the provision of aids to navigation to assist the safe passage of vessels in general navigation. These comprise nearly 600 facilities ranging from traditional aids such as lighthouses, buoys and beacons, to a satellite based differential global positioning service. Its statutory functions as a General Lighthouse Authority are set out in Part VIII of the UK Merchant Shipping Act 1995.
Trinity House is also responsible for the inspection and auditing of over 10,000 local aids to navigation provided by port and harbour authorities, and those provided on offshore structures, such as production platforms or wind farms. It also has a responsibility for locating and marking wrecks that are a danger to general navigation and arranging for their dispersal to a safe depth. Funding for all these services is raised from light dues which are levied on vessels calling at ports in the United Kingdom and Ireland based on net registered tonnage or registered length in the case of tugs and fishing vessels. The dues are paid into the General Lighthouse Fund which is under the stewardship of the Department for Transport, and are used to finance the lighthouse services provided not only by Trinity House, but also the Northern Lighthouse Board (responsible for the waters of Scotland and the Isle of Man) and the Commissioners of Irish Lights (responsible for the waters of both Northern Ireland and the Republic of Ireland).
Trinity House maintains a small secretariat based at Tower Hill in London. Day-to-day operations are carried out from the main depot and buoy yard at Harwich, the buoy yard in Swansea and an outstation at St. Just (near Penzance).
Trinity House operates three vessels, constantly at sea, maintaining floating aids to navigation, fuelling and mooring light vessels, laying buoys, surveying newly reported shoals and searching for and marking wrecks. Control of all ships and stations is handled by an Operations and Planning Centre in Harwich, manned 24 hours a day.
Looking ahead Trinity House is actively involved in the development of systems to support and improve navigation safety, such as the Automatic Identification Systems (AIS), eLoran, and an eNavigation strategy. It is also responsible for the safety of navigation aspects in the development of offshore windfarms and other similar offshore renewable energy projects.
Trinity House offers a range of commercial services including aids to navigation maintenance, surveys and the deployment of data acquisition equipment for third parties. A colourful offshoot of this has been Trinity House's ability to market some 30 lighthouse keepers' cottages as holiday lets, and to offer voyages aboard THY Patricia as she conducts her operational tasks around the coast.
Deep Sea Pilotage
Trinity House licences and administers deep-sea pilots. Although not compulsory, Masters unfamiliar with Northern European waters frequently employ this professional expertise to help their bridge teams.
Maritime Charity
From its early beginnings to the present, a main focus of the Corporation has been the safety, welfare and education of manners. Today (2013) the Corporation, as the UK's largest fully endowed maritime charity, allocates over £3M annually from its charity income to support maritime activities. It maintains estates in Lincolnshire and South London. It runs an estate of almshouses at Walmer, in Kent, for retired mariners and their widows; it manages the Trinity House Merchant Navy Scholarship Scheme, selecting and sponsoring Merchant Navy Cadets through nautical college; and supports a range of maritime activities and support groups including; The Shipwrecked Mariners' Society, The Marine Society and Sea Cadets, Jubilee Sailing Trust, Tall Ships' Youth Trust, through to funding research into issues that will improve maritime safety. This Charity very much complements the navigation responsibilities of Trinity House and enables it to discharge its corporate social responsibility to the maritime community.
Trinity House — Supporting the Mariner Past, Present and Future.

HMS Alliance Industry Dinner
March 2011