The Royal Society of Saint George
St George's Day Banquet
April 2015, The Old Library, Guildhall, City of London
City of London Branch AGM Dinner
May 2014, Armourers' Hall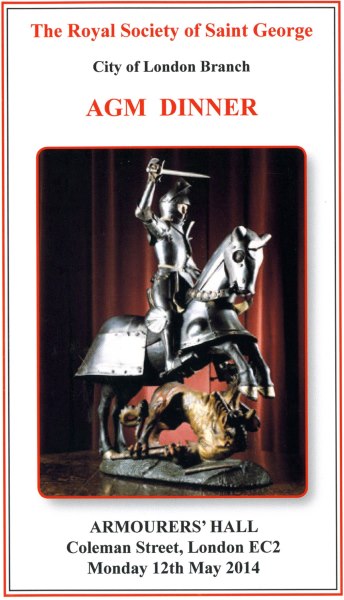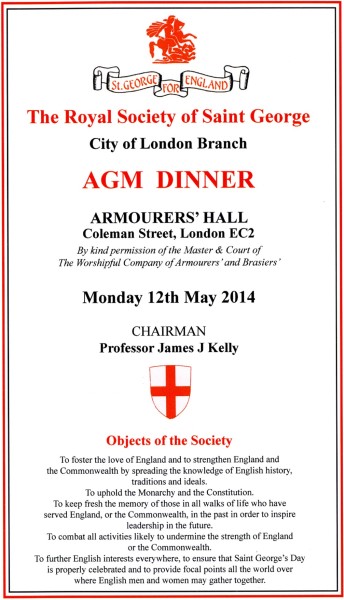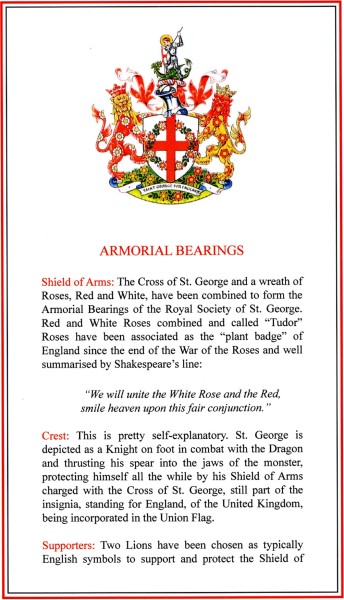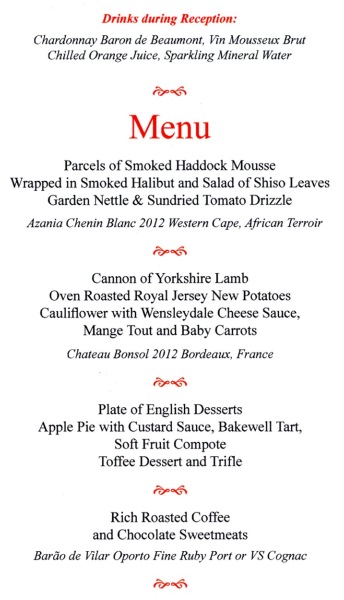 Armorial Bearings
Shield of Arms: The Cross of St. George and a wreath of Roses, Red and White, have been combined to form the Armorial Bearings of the Royal Society of St. George. Red and White Roses combined and called "Tudor" Roses have been associated as the "plant badge" of England since the end of the War of the Roses and well summarised by Shakespeare's line:

"We will unite the White Rose and the Red, smile heaven upon this fair conjunction."

Crest: This is pretty self-explanatory. St. George is depicted as a Knight on foot in combat with the Dragon and thrusting his spear into the jaws of the monster, protecting himself all the while by his Shield of Arms charged with the Cross of St. George, still part of the insignia, standing for England, of the United Kingdom, being incorporated in the Union Flag.

Supporters: Two Lions have been chosen as typically English symbols to support and protect the Shield of the Society. The Lions being made particularly relevant to the said Royal Society of St. George, in having roses, both Red and White, scattered upon their bodies, the Supporters standing on a grassy mount from which Roses are shown growing. This combination of Lions and Roses being designed to emphasise the Englishness of the Royal Society of Saint George
Saint George
It is likely that St George was born in Cappadocia, in what is now Turkey, in about the year 280 AD. From his physical description, he was probably of Darian origin, because of his tall stature and fair hair. He enlisted into the Cavalry of the Roman Army at the age of 17, during the reign of the Emperor Diocletian and quickly established a reputation amongst his peers, for his virtuous behaviour and physical strength, achieving the rank of Miltenary or Tribunus Militum, an officer's rank roughly equivalent to a full Colonel, in charge of a regiment of 1,000 men and became a particular favourite of his Emperor.

Diocletian, a skilled military tactician and strict disciplinarian, set himself the task of rejuvenating the morale of the citizens of Rome by reviving the prevailing traditions and paganism of the city. His second in command was Galerius, the conqueror of Persia and an avid supporter of the Pagan religion. As a result of a rumour that the Christians were plotting the death of Galerius, an edict was issued that all Christian Churches were to be destroyed and all scriptures were to be burned. Anyone admitting to being a Christian, would lose his rights as a citizen, if not his life.

Many Christians feared to be loyal to their God; but, having become a convert to Christianity, St. George acted to limit the excesses of Diocletian's actions against the Christians. He went to the city of Nicomedia where, upon entering, he tore down the notice of the Emperor's edict and gained great respect for his compassion towards Diocletian's victims. As news spread of his rebellion against the persecutions, St George realised that as both Diocletian and Galerius were in the city, it would not be long before he was arrested. He prepared for the event by disposing of his property to the poor and freed his slaves.

Diocletian refused to acknowledge or accede to St George's reasoned, reproachful condemnation of his actions and consigned him to prison with instructions that he be tortured until he denied his faith in Christ. St George, having defended his faith was beheaded at Nicomedia near Lyddia in Palestine on the 23rd of April in the year 303 AD. Stories of St. George's courage soon spread and his reputation grew very quickly. He soon became known in Russia and the Ukraine as the Trophy Bearer and his remains are said to have been buried in the Church that bears his name in Lydda. However, his head was carried to Rome, where it was preserved in the Church that is also dedicated to him.

St. George became the Patron Saint of England in 1415 AD, when English Soldiers under Henry V won the battle of Agincourt.
The City of London Branch
The inaugural meeting of the City of London Branch of The Royal Society of Saint George, was held at The Mansion House on 18th April 1921 under the Chairmanship of Mr Stanley Machin JP. The Lord Mayor, Sir James Roll, was elected as the first President.

The first luncheon of the new branch was held on 22nd June 1921 in Salters' Hall, St Swithin's Lane with the Lord Chancellor, Viscount Birkenhead, as the guest speaker. On 30th January 1922 over 500 people attended a Reception at the Mansion House. The Branch was clearly becoming strong and active. During the banquet, the Band of the Honourable Artillery Company played a selection of music, including "Land of Hope and Glory", which has become a tradition in the City of London Branch.

After the Second World War the Branch was revitalised by the enthusiasm of the late President, Bernard L Morgan CBE, JP, KStJ, FCIOB and George Gibbs. The Patron of the Branch is The Rt Hon The Lord Mayor. The City of London Branch is by far the largest branch of the Society in the country Saint George
Saint George's Day Banquet
April 23rd 2010, Guildhall, London

Table Setting



Presentation of the English Beef



The Chairman approves the Beef and drinks Jean's health


Return to Serve