The Worshipful Company of International Bankers

Annual Banquet
March 2015, Guildhall, City of London











CHARITY AND THE COMPANY
Charity and Education are at the heart of our Company, it is part of our DNA. Since the founding of the Guild of International Bankers in 2001 our members have contributed and raised almost £l.7 million for the International Bankers' Charitable Trust. This has enabled us to make grants totalling £771,000 between 2003 -2014. Thank you.

Highlights of what we have done include:

• Mansion House Scholarship Scheme (MHSS). This is a flagship scheme whereby the Lord Mayor awards scholarships during official visits overseas for up to one year's study in the UK in a financial discipline at Master's degree level. The idea is to build up long lasting relations for the City around the world. WCIB has been an enthusiastic supporter of the MHSS since 2008 providing both grants and a mentor for each student. The total donated to the MHSS to date by WCIB is £62,000 Several of the mentors and students have stayed in touch with each other and several students have become members of the WCIB.

• Tertiary education. WCIB sponsors academic prizes at 17 university business schools around England. The victor ludorum wins the WCIB Lombard Prize (cash and a silver salver) presented at this annual banquet. Equally important is the involvement of WCIB members with the various business schools.

• Secondary education. WCIB support for inner London state schools is leveraged through a 3 year programme called 'Working in the City' paid for by WCIB (£45,000/year) and run by Brokerage Citylink. In the 2013/14 school year 30 businesses hosted more than 80 workshops with a total attendance of 1600 students from 50 London schools. Close to 400 City volunteers took part many of them members of the WCIB.

• Schools essay prize. Run in conjunction with Brokerage Citylink WCIB invites pupils in sixth forms at London state schools to submit an essay on a subject chosen by the WCIB. The 2014 title was 'Does the UK as a whole benefit from London's pre-eminence in financial services?' Cash prizes are awarded to individual winners and runners up with an equivalent amount going to the schools for departmental use. The 2014 competition attracted 107 entries and was won by Fatheha Shaid from St Saviour's and St O1ave's Church of England School in Southwark.

• Bespoke programmes run in conjunction with ARK and MyBnk for secondary schools following fund raising events by the WCIB Lombard Appeal committee. The 2013/14 programme using money raised at the 2013 Mansion House fundraising dinner reached 1479 secondary school pupils helping them understand managing personal finances.




Annual Banquet
March 2014, Guildhall, City of London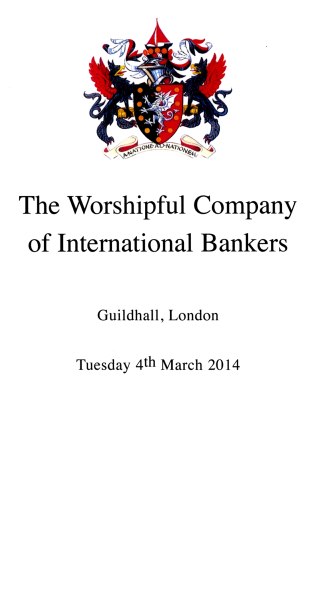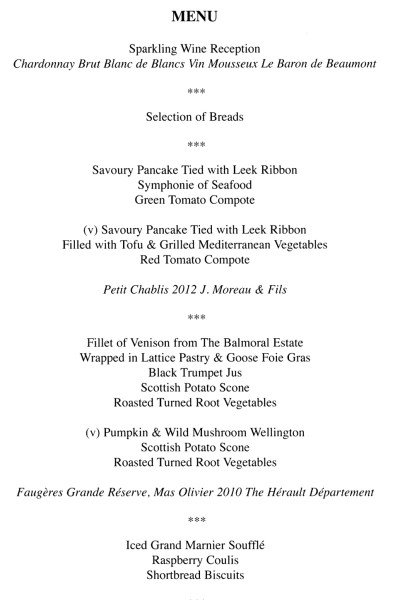 A Banquet at Guildhall in The City of London
February 2013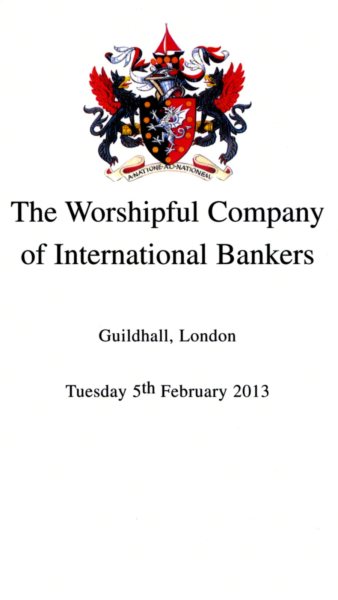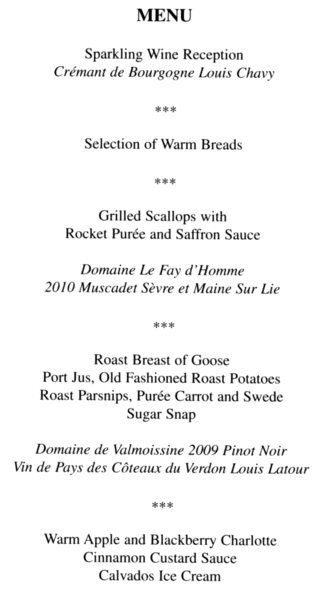 CHARITY & EDUCATION IN 2012
In the face of the continuing economic challenges which confront us all it is reassuring to see so much effort put in by our members in support of our Charitable and Education work. Like all contributions of this nature, whether large or small, they collectively add up to making a more significant difference in our society and for our Company. I would like to thank all our members for this support. It is not just money but also time that we seek to supply to further our core aims of supporting education and financial literacy in a meaningful way.

In addition to our normal contributions to regular City of London charities, charitable donations west made to I different organizations last year, with the larger contributions going to

• Blind in business
• Debt Doctors Foundation
• Info University
• Saga Charitable Foundation
• ENO Opera Squad proposal
• Guildhall School of Music and Drama

We make these donations generally to a wide range of organizations where our contribution will make a tangible difference because they do not command the resources of a national or medical charity.

We also provide a range of bursaries to school age students attending The City of London School for Boys, The City of London School for Girls and award The Lord George Memorial Scholarship at Dulwich College. At Cass Business School, Nirosha Tharmachandran is the recipient of the WCIB bursary. Nirosha is now a third year Banking and International Finance student. She is looking to enter business in finance or accounting in the City upon Graduation.

The Company has long been a supporter of the Mansion House Scholarship Scheme, providing match funding alongside funds drawn from the KC Wu Fund to support students from abroad coming to study in the UK. Last year. an additional contribution was made in support of the participation in the Scholarship scheme of Mr. Justin Keh Wen Qing, a new scholar from Singapore, in the Scholarship scheme.

WCIB prizes were awarded in 10 Business Schools and Universities and there were 9 contestants drawn from these for the Lombard prize. The quality of the presentations for the prize was excellent. The winner was Natalia Lykova from London Metropolitan University and the runner-up was Anna Faelton from Cass Business School, both of whom are with us tonight.

The Schools Working Group has had another busy year. The Annual Schools Essay Competition and consequent Awards Ceremony, was held this year at ING on London Wall thanks to the generosity of one of our members, Gerald Walker. The ceremony is the highlight of the programme as it provides the opportunity to meet a wide range of students, teachers and parents. Before the presentation of prizes by the Master Gerald gave an inspirational and aspirational speech which indicated that success for these students requires a lot of hard work from them but also support from their parents and teaching staff. The Schools Working Group (SWG) also continued with Business Challenges, in which students in teams compete against each other for funding for an entrepreneurial project by producing business plans and subsequently putting their ideas into action. What was notable this year was a real step change in the types of projects which were put forward. The SWG also hosted an event for providers of financial literacy programmes to present their wares to a number of schools. The event, which was held at JP Morgan Chase, thanks to the Master, proved very popular and was well attended.

With our partner the Brokerage Citylink and in particular the help of Frank Funnell of the Brokerage for which we are very grateful, we have increased the number of WCIB City Experiences which we offer to schools. We are always interested to hear from members who are willing to open up their organizations for small groups of students or who are able to commit to talk to students about their business or a City related topic. This year we have had further volunteers (including Court Assistant Frank Moxon and Junior Warden Michael Llewelyn-Jones) to add to last year's volunteers. It would be good if we could expand this more widely in the Company and anyone who feels they might be able in help in this area should speak to a member of the SWG or Charities and Education Committee. The relationship with the Brokerage took a new turn during the year as the Company agreed to provide funding for the Working in the City Programme for 3 years. This Programme in 2011/12 involved over 750 students from 50 schools in workshops and other activities in the City.

We have been approached by a number of members who are interested in participating in our work and making a difference to the lives and prospects of some young people. This might take the form of becoming a mentor, becoming a school governor, getting involved in activities in a deprived area. We appreciate that members do not necessarily have much time to devote regularly to these activities and we have a number of different options for those who arc interested. Again, if you'd like to know what opportunities are available, contact a member of the Committee or the Court.

Finally I would like to express my personal appreciation to those who serve on our Charity and Education Committee, Schools Working Group, Education and Awards Working Group, or who support our programmes in one way or another. I also welcome the establishment of the Lombard Committee under the Chairmanship of Court Assistant Frank Moxon as I believe this will help provide the financial support for us to achieve more in the fulfilment of our Company Aims.

All our members have a role to play in support of this work. Please continue to give generously so that we can make an even bigger difference to the lives of the people we work with.

Mark Sismey-Durrant

Chairman of Charity and Education Committee


A Banquet at Guildhall in The City of London
February 2011












THE INTERNATIONAL BANKERS -
BRINGING THE CITY LIVERY TRADITION TO TODAY'S FINANCIAL SERVICES PROFESSIONALS
The Worshipful Company of International Bankers is the only City of London livery company dedicated to financial services professionals. The Company comprises a major body of experience in the banking, capital markets and related arenas in the UK and abroad. Members have the opportunity to access the collective and individual experience of fellow financial services professionals from all levels of the industry.

By joining the Company, members benefit from the rich tradition of the City livery companies which date back almost a thousand years. The company provides:

- Fellowship and educational knowledge sharing with over 700 financial services professionals representing more than 40 nationalities from over 250 institutions. The Company provides various forums for information exchange with speakers coming from the highest levels of Government, the City, Banks and elsewhere;

- Participation in the City of London's traditions, including access to events at historic and otherwise restricted venues including the Guildhall, the Mansion House and City Livery Halls. Members can apply for Freeman status and progress to Liveryman. These positions allow for more active participation in the governance of both the Company and the City of London; and

- Charitable activities, including philanthropic support of scholarship programmes to City students and mentoring students, together with the provision of employment opportunities.

Join us and be part of a City tradition!

PRINCIPLES FOR GOOD BUSINESS CONDUCT
Introduction

The core purpose of international financial service providers is to promote global economic and social welfare by aggregating financial resources, converting them into specific services and products and delivering them in accordance with the mandates of their clients, customers and counterparties. Both the public good and the personal interest that stands behind this purpose and the capacity of providers to fulfill their mandates on a competitive, efficient and cost-effective basis can be substantially impaired, even frustrated, by dishonesty or by a lack of professional integrity, transparency and accountability. Accordingly, financial service firms and their officers and employees have both a collective and an individual commercial interest in the maintenance of high standards of behaviour and of their professional reputation.

These objectives cannot be attained, however, through mere compliance with rules and regulations. Whether the prevailing regulatory environment is prescriptive or principles-based, the interpretation and observation of such rules and regulations, if it is to be meaningful, and if it is to ensure confidence at all levels, must itself be underpinned by behaviour that is rooted in trust, honesty and integrity.

The principles set out below are founded upon and reflect the essential business values which are necessary to meet these objectives and, at the same time, support the function of regulatory compliance.

The Principles

I. To act honestly and fairly at all times when dealing with clients, customers and counterparties and to be a good steward of their interests, taking into account the nature of the business relationship with each of them, the nature of the service to be provided to them and the individual mandates given by them.

2. To act with integrity in fulfilling the responsibilities of your appointment and seek to avoid any acts or omissions or business practices which damage the reputation of your organization or which are deceitful, oppressive or improper and to promote high standards of conduct throughout your organization.

3. To observe applicable law, regulations and professional conduct standards when carrying out financial service activities and to interpret and apply them according to principles rooted in trust, honesty and integrity.

4. When executing transactions or engaging in any form of market dealings, to observe the standards of market integrity, good practice and conduct required by or expected of participants in that market.

5. To manage fairly and effectively and to the best of your ability any relevant conflict of interest, including making any disclosure of its existence where disclosure is required by law or regulation or by your employing organization.

Observance of the five principles above is wholly compatible with comparable notions of good behaviour which may be expected or mandated by applicable law or financial or other regulations or by the membership requirements of any relevant professional association or by any other applicable code of good conduct.

These principles comprise the general standards of conduct that are expected of members of the Company in their business relations. Their observance carries a hallmark of trust and a commitment to fair and honest dealings with colleagues, clients, customers and counterparties and to good stewardship of customer interests, whether wholesale or retail. A material breach of the principles would be incompatible with continuing membership of the Company.

CHARITY & EDUCATION IN 2010
Charity and Education forms a critical component of our activities as a livery company, disbursing nearly £90,000 in 2010 and co-ordinating the time of many member volunteers. Operating for the past three years under the Chairmanship of Court Assistant Bill Whitehead, the Charity and Education work has been developed through working groups comprising volunteer members of the Company. Two of these. Universities and Awards were merged at the end of the year to form the Education and Awards Committee alongside the Schools Working Group and the Small Charitable Donations Group. Court Assistant Mark Sismey-Durrant took over the Chairmanship of the C&E Committee from Bill Whitehead in December. A revised C&E strategy is being prepared as the Company enters its second decade to build on the good work that has been done so far. This will seek to focus increasing Company resources on areas where it can have a real and lasting impact along the lines of its core objectives for Charity and Education.

The Company's Small Charitable Donations are managed by Freeman Peter Stredder. These donations are normally of amounts up to £1000 to charities that fall outside the main educational activities of the Company but meet the core of objectives to: help disadvantaged young people; link to inner London; are connected to the financial services industry; or link to a charity supported by a Company member. Resources are focused on specific projects rather than simply contributing to their general resources. In 2009-10 examples of this included funding extra places on weekend performing arts courses for young people from low income families and helping a charity that enables young people with low educational achievements to gain a BTEC qualification. Support was also provided for a charity that helps disadvantaged young people with their careers, for young people from low income families in a cadet unit of each of the armed forces and for a number of small donations in amounts of £100 or £250. The Committee would welcome suggestions from members for charities that meet its core objectives.

The Education and Awards Committee operates under the Chairmanship of Liveryman Gerald Ashley with support from Liveryman Jon Norton (Formerly Chairs of the Awards Committee and University Working Groups respectively). The good alumni links established with a number of universities and business schools in recent years and cemented through the granting of prizes, has now been enhanced with the re-launch of the Lombard Prize with sponsorship from Lombard. This prize is now open to all Company prize winners at business schools throughout the country and will set a high standard of academic achievement in a business related field. In addition to this, the Company continues to develop strong and active links with the Institute of Financial Services which naturally aligns with the Company objectives, particularly in the fields of financial literacy education for young people and the achievement of professional qualifications.

Liveryman Tony Rhodes has expertly chaired the Schools Working Group for the past 3 years, but now hands over to Liveryman Jean Stevenson. The SWG focuses on students in secondary education with an ethos of being "passionate about making a difference to as many students as possible", particularly those in the lesser privileged boroughs surrounding the City. The SWG continues to run two competitions for these schools, the WCIB Business Challenge and the WCIB Essay Competition. The subject of the Essay Competition was a letter to the Chancellor and it was interesting to read the concerns of the competitors. The numbers of students participating in these competitions continues to grow. One teacher from Christ the King 6th Form College made the following comments which demonstrates its positive impact:

"I just wanted to say a huge thank you to all concerned at the WCIB. Your enthusiasm and generosity for supporting our students is brilliant and all students had such a great time doing the Business Challenge. It was a great experience and great to see what they learn in the classroom being brought to life so thank you for giving us the opportunity."

The annual Prize giving event, kindly hosted again by Burdale Financial was a great success well attended by students, teachers, parents and members. It gave the Master, who presented prizes, the opportunity to demonstrate to the attendees that bankers do have a social conscience and are doing something practical about it.

We continue to support badged scholars at the City of London School, the City of London Girls School and Reeds School, ensuring that the bursaries are awarded to talented students who would not normally have been able to afford to attend these schools. The Lord George Past Masters Scholarship Fund was also launched in 2009 to provide an annual scholarship to a student attending Dulwich College. Whilst this is an important aspect of our work, as we are a relatively new Company we are only able to support a small number of students in this way. Members are particularly encouraged to contribute to the Lord George fund if they have not already done so and should please contact the Clerk to make their donation,

Thanks must also go to the Brokerage Citylink for their continued support for the Company and their enormous help in giving the Company educational links throughout the inner city.

The Charity and Education Committee also managed the Company's traditional livery company relationships with TA unit 256 Field Hospital (D Squadron), CVHQ Royal Artillery in Woolwich, City of London Sea Cadets and 16F Squadron Air Training Corps in Hornsey. We are members of the Livery Schools Link and provide financial and mentoring support for visiting students on the Mansion House Scholarship Scheme.

This was a busy past year for the Charity and Education Committee, but we all look forward to refreshing the strategy and moving forward in 2010.

Mark Sismey-Durrant

Chairman