City of London Corporation
Freedom of the City of London Celebrations


The Rt Hon John Bercow, MP
Freedom of the City of London Celebratory Dinner
July 2016, The Chief Commoner's Parlour, Guildhall





Joshua Leakey VC
Freedom of the City of London Celebratory Lunch
May 2016, Guildhall




Victoria Cross hero Corporal Josh Leakey has received the City of London's highest honour to become a Freeman of the City.

He was nominated for his Freedom by Alderman Sir Alan Yarrow, the former Lord Mayor, and Billy Dove, the former Chief Commoner. Sir Alan Yarrow said that Cpl Leakey was a remarkable young man who had displayed the highest courage in serving his country and is an inspiration to all as well as being a role model for young people especially those who wanted to pursue a military career.

Cpl Leakey, who was awarded the VC in August 2013, said that although he was the one who was recognised he emphasised that you don't join the Army to be an individual but to become part of a team and that on that day, during that action, he was simply part of a well-oiled machine that drove him forward. He added: 'It's an honour for me, the Parachute Regiment and the Army.'



Michael McCulloch
Freedom of the City of London Celebratory Lunch,
October 2015, The Chief Commoner's Parlour, Guildhall, London






Dame Janet Suzman DBE
Freedom of the City of London Celebratory Lunch,
May 2015, Guildhall, City of London






His Excellency the Ambassador of Japan
Freedom of the City of London Celebratory Lunch,
May 2015, The Chief Commoner's Parlour, Guildhall, London






Paul Sizeland CMG - Freedom of the City of London
Celebratory Lunch, April 2015
The Chief Commoner's Parlour, Guildhall, London






Sir Nicholas Winton MBE - Freedom of the City of London
Celebratory Lunch, February 2015
Sir Nicholas Winton organised the rescue of 669, mostly Jewish, children from Nazi-occupied Czechoslovakia on the eve of the Second World War, in an operation later known as the Czech Kindertransport. Winton found homes for the children and arranged for their safe passage to Britain. In October 2014 he was awarded the highest honour of the Czech Republic, the Order of the White Lion, by Czech President Miloš Zeman.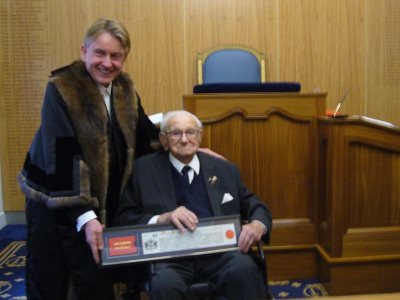 Sir Nicholas receiving the Freedom of the City of London from the Chamberlain, Dr Peter Kane.




Sir Quentin Blake - Freedom of the City of London
Celebratory Lunch at Guildhall, January 2015



Sir Ian McKellen - Freedom of the City of London
Celebratory Lunch at Guildhall, October 2014





Lord Richard Rogers - Freedom of the City of London
Celebratory Lunch, February 2014





Lunch to mark the occasion of the Freedom of the City of London
being granted to Colin Firth CBE
March 2012, Guildhall, London


Modesta from The Cook & The Butler with Colin Firth





The medieval term 'freeman' meant someone who was not the property of a feudal lord but enjoyed privileges such as the right to earn money and own land. From the Middle Ages and the Victorian era, the Freedom was the right to trade, enabling members of a Guild or Livery to carry out their trade or craft in the square mile.

In 1835, the Freedom was widened to incorporate not just members of Livery Companies but also people living or working in the City or there was a strong London connection. Today most of the practical reasons for obtaining the Freedom of the City have disappeared. It nevertheless remains as a unique part of London's history to which many people who have lived or worked in the City have been proud to be admitted.

Prior to 1996, the Freedom was only open to British or Commonwealth Citizens. Now, however, it has been extended globally and persons of any nationality may be admitted either through nomination or by being presented by a Livery Company. There is a long standing tradition of admitting women.

The City of London is keen to maintain the Freedom as a living tradition. The Freedom is open to all who are genuinely interested and invited or born to it. The City Freemen are a very broad cross-section of the population.